[ad_1]

A little over a decade ago, the writer Christopher Hitchens wrote a column for Vanity Fair entitled Why Women Aren't Funny. It caused a bit of a stir. To imagine it being published today, however, is to blanch at the thought of Hitchens being dragged all the way across cyberspace by feminist Twitter.
Among its more salient lines was one in which the writer conceded the existence of female comedians: "Most of them, though … are hefty or dykey or Jewish, or some combo of the three," he wrote. It was the kind of thing that would have been fodder for the satirical feminist website Reductress, lampooner of media for and about women. In 2015, in fact, the site addressed this "tiresome debate" with the story: If Women Aren't Funny, Then Why Did I Just Leave a Huge Poop on Ryan's Desk?
Launched in 2013 by comedians Beth Newell and Sarah Pappalardo, friends from the comedy circuit in New York, the Webby award-winning Reductress was an overnight success, attracting 2.5 million visitors a month within its first year. With articles such as How to Talk Dirty So He Knows You Have an MFA in Creative Writing, and Vague Advice to Give Your Friend While Tuning Out Her Emotional Breakdown, the site provided a welcome oasis in a desert of women's comedy, attacking the absurdity of the tone and content of women's magazines, blogs and consumer culture.
"There were just not a lot of places for women on the internet to do comedy at the time," says Newell, on a sweltering day at a rooftop coffee shop near the Reductress office in Manhattan's Flatiron district. "There are still only a handful, and few of them speaking to women's issues." The original concept for Reductress, a sort of feminist answer to US satirical website the Onion, had never been done before on a large scale. "We wanted to tackle the manipulative fear-mongering that plays on your insecurities in order to sell you things," says Pappalardo, "and explore the nuances of women's experience that were never addressed in the male-dominated comedy scene."
In the five years since Reductress was founded, it has become central to what has been heralded as a new "golden age" of comedy for women – and while that kind of optimistic framing may itself be something Reductress would have fun with, there has been an undeniable rise in representation of women in the comedy world, fuelled, in part, by a feminist wave and the opportunities for self-publication provided by social media. Amy Schumer, Mindy Kaling, Issa Rae and Michelle Wolf have all had hit movies and shows, and the standup comedy of Ali Wong, Hannah Gadsby, Monique Marvez and others has garnered rave reviews.
"There are tons of women and non-white, non-straight women who are doing really good work and they're just bubbling to the surface now," Pappalardo says. "I think what's exciting," says Newell, "is to see women coming into the writer-creator-director role in which we're actually starting to be able to tell our own stories, represent our own reality and be in control of the creative content."
And now Newell and Pappalardo, both 33, are the creators and executive producers of a show of their own – The Reductress Hour, which will debut on Comedy Central. It is a late-night talkshow with an in-character host played by Abby Elliott (Saturday Night Live), who, Newell says, "does a really good job of doing those really well-intentioned but ill-informed media hosts – this white woman who really wants to understand the issues, but she hasn't done the reading."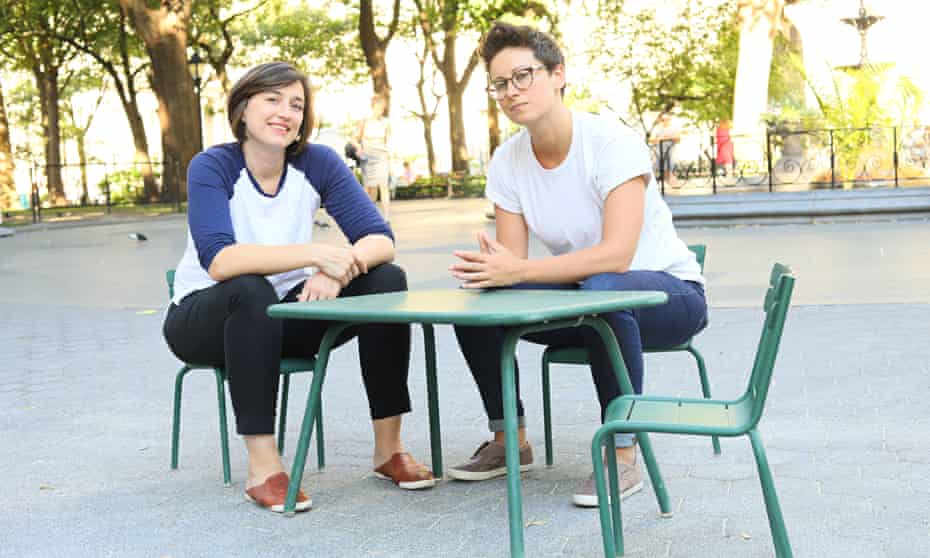 "Think The Colbert Report meets a woman," Pappalardo says. "There are things to criticise, but you also know that you'd like her – like she'd be a really kind, nice person and maybe she's under a lot of pressure to do things that are corny or silly and maybe not politically perfect. I think the white woman in the US right now is in a very interesting crossroads of power and privilege."
Unlike Stephen Colbert's self-obsessed conservative character in The Colbert Report, however, the host of The Reductress Hour is a liberal. Why make this choice when 53% of white women voted for Donald Trump, and it seems not a day goes by when a white woman isn't going viral for calling the police on a person of colour for some nonexistent offence? "We're trying to satirise women's media," Pappalardo says, "and a lot of what we've seen is women being the mouthpiece for women's media that they may or may not believe in, but, you know, they're kind of part of the system."
Newell and Pappalardo, who are white, were both born in Massachusetts. Pappalardo grew up in New Hampshire, the child of Republicans who attended an evangelical church. She says the language of victimhood she hears coming from some Republicans today (think White House press secretary Sarah Huckabee Sanders complaining about being kicked out of a restaurant) "reminds me of being a kid going to church and they would tell you: 'You're the most persecuted people, historically.' They'd be like: 'Christians are persecuted,' – which is insane. It was just so funny because as a kid, I remember being like, I don't feel very persecuted, but OK."
After graduating from DePaul University in Chicago, Pappalardo moved to New York, where Newell, a graduate of Brooklyn's Pratt Institute, was already living. They got to know each other doing comedy with the Upright Citizens Brigade, the improv and sketch comedy group, and at the Magnet theater, where Newell taught a sketch comedy class for women.
A conversation about their frustrations over the lack of opportunities for women in comedy led to a series of writing sessions where they churned out "50 to 60 pieces", the beginnings of their site. Soon, they were up and running with a steady flow of shareable headlines such as Actually, I'm an Intersectional Men's Rights Activist and 8 Guys On Tinder That Have Been to Machu Picchu But Never to Therapy. The Reductress profile increased after a 2016 series of articles centring on rape culture, perhaps one of the precursors of the #MeToo movement. Then came a Reductress book, How to Win at Feminism (2016), and now the show.
"What Oprah did for women's media, we were gonna do for women's media satire," says Pappalardo, talking about their early plans. It is interesting to hear her reference the queen of all media, as this is also how she describes that "well-intentioned" white woman talkshow host on the Reductress show – as idolising Oprah. "I think that she wants to believe that she's Oprah," Pappalardo says with a grin, "but she's not quite hitting that mark."
It will be interesting to see how The Reductress Hour avoids seeming sexist, satirising a woman talkshow host with big dreams, however misguided and clueless she may be. And how will it continue to deliver fresh takes on the failings of the patriarchy for millennials – whom Newell and Pappalardo identify as their target market – when millennials have become so woke already?
"'Wokeness' is just a new name for an old idea, an awareness of structural oppression," Pappalardo emails after our talk. "It does seem that millennials are more 'woke', since social media has helped us to become aware of how many structural inequities play out in real life, not to mention with the current administration. This doesn't make it any harder to be satirical," she says, "but it does demand that we be more specific in our critiques … As comedians, our cardinal rule is to punch up, meaning we don't make fun of the less powerful, or more marginalised."
But they don't mind going after women who just don't get it, it seems. So watch out privileged white liberal ladies, some up-punches are coming your way.
[ad_2]

Source link